loft conversion and home extension company in Mortlake
Here at SKC Services Ltd, we proudly provide professional loft conversions and home extensions to clients in Mortlake and the wider West London region.
Our team possess experience in a full range of bespoke loft conversion and home extension styles, earning us a reputation as the go-to company for contemporary design and quality craftsmanship.
Kitchen Extensions in Mortlake
The kitchen is often the heart of the home, so ensuring it is well designed for everyday living is essential. At SKC Services Ltd, we offer a range of options for kitchen extensions for all budget and properties throughout Mortlake.
Rear Extensions in Mortlake
Whether for creating more space or allowing in extra light, rear extensions can be a great option for those with the room to expand. Suitable for almost all types of property, we can install rear extensions throughout Mortlake for both commercial and domestic clients.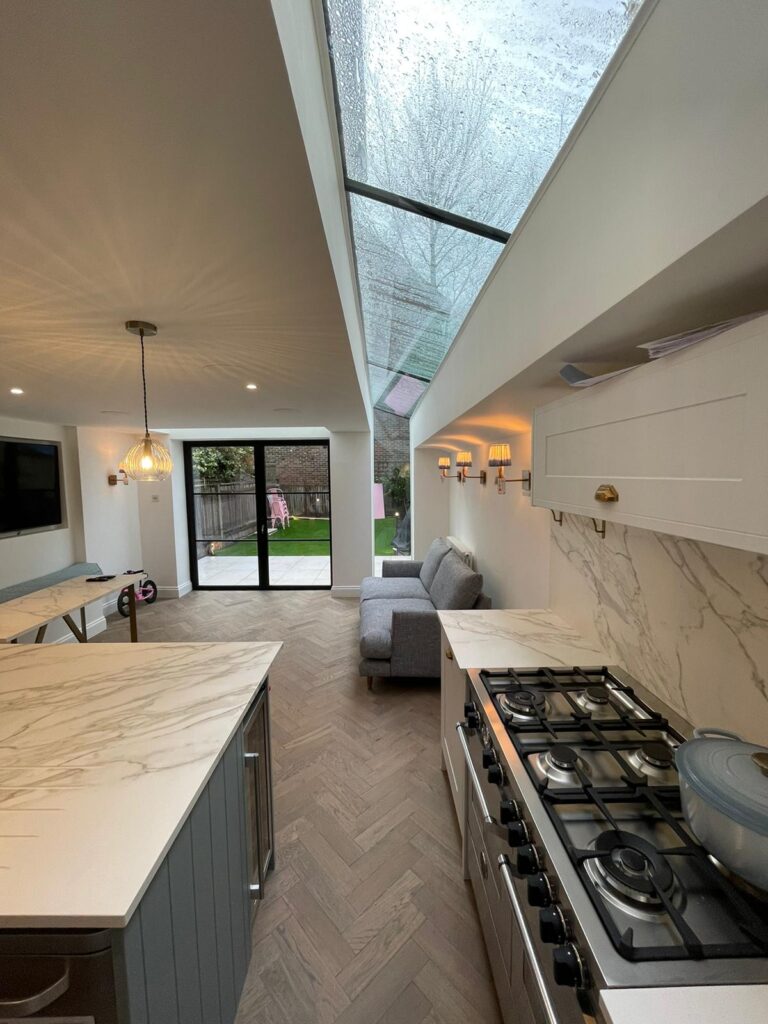 Side Return Extensions in Mortlake
The ideal option for those with limited room, side return extensions are designed to fill the space that often runs alongside the side of semi-detached and end-of-terrace properties. While this space might not initially appear to warrant much space, the extra floor room can significantly increase a property's floorplan.
Dormer Loft Conversions in Mortlake
Very popular and often not requiring planning permission to install, dormer loft conversions are relatively straightforward projects, simply involving a vertical roof extension to create additional space. At SKC Services Ltd, we install dormer loft conversions throughout Mortlake, helping clients expand the room within their property.
Hip-to-Gable Loft Conversions
Best suited for bungalows, detached or semi-detached properties, hip-to-gable conversions involve interchanging the sloping part of the roof with a wall. This type of loft conversion is ideal for maximising potential space and can also be combined with a dormer conversion at the rear.
L-Shaped Dormer Loft Conversions in Mortlake
Depending on the size of your home, an L-shaped dormer can add anything between 20sqm-50sqm – ideal for creating additional floor space. Here at SKC Services Ltd, we fit L-shaped dormer loft conversions for the vast majority of property types, especially more traditional-build homes, throughout Mortlake.
Often constructed to the rear of a property, a mansard loft conversion provides a stylish, flat-roof option well suited to fit within the architecture of urban areas.
A mansard loft conversion is typically one of the more expensive conversion options and will almost always require planning permission from the local authority to install.
Our friendly loft conversion team is on hand to take your call five days a week from 9am-5pm. We offer a free survey and a written quotation for all clients based in Mortlake. All our staff are fully trained and qualified in line with the highest UK industry standards. Call now on 07828 160103 or drop us a line, outlining which service you require.