loft conversion and home extension company in Kew
Here at SCK Services Ltd, we are proud to provide clients throughout Kew with high-quality loft conversions and home extensions.
As a business, we work tirelessly to offer a comprehensive range of loft conversions and home extensions in styles to suit every home – ensuring we live up to our reputation as the go-to company for contemporary design and quality craftsmanship.
Kitchen Extensions in Kew
The kitchen is typically the busiest room of the home or the office, so ensuring it remains spacious and comfortable enough for everyone to enjoy is vital. Here at SCK Services Ltd, we provide a comprehensive choice of options for kitchen extensions for all budgets and property types.
Rear Extensions in Kew
Suitable for almost all types of property, rear extensions can be the ideal solution for adding more space and allowing extra light into the home or office. So no matter your vision, our team are here to help expertly design and install a rear extension to suit your needs.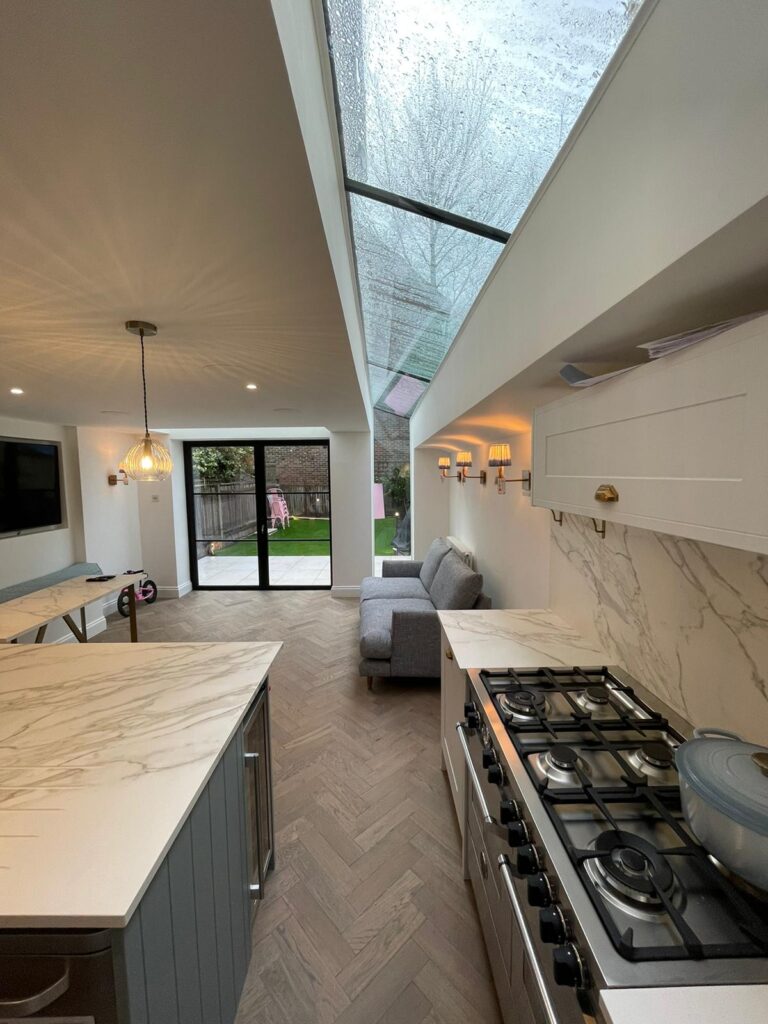 Side Return Extensions in Kew
Side return extensions are designed to fill the limited space which often runs alongside the outside of semi-detached and end-of-terrace homes. However, while this space may at first appear too small, the extra space it creates can make a noticeable difference to a property's floorplan.
Dormer Loft Conversions in Kew
Often able to be installed without the need for planning permission, dormer loft conversions make an excellent choice for those looking to expand their home. This popular conversion simply involves the addition of a vertical roof extension to create additional headroom within the property.
Hip-to-Gable Loft Conversions in Kew
The process of transforming the sloping part of a roof (the hip) to a vertical wall (the gable), hip-to-gable loft conversions are best suited for bungalows as well as detached and semi-detached properties. A hip-to-gable loft conversion can also be combined with a dormer conversion to maximise the potential space of a property.
L-Shaped Dormer Loft Conversions in Kew
A suitable option for most properties, particularly mid-terraced houses, L-shaped dormer loft conversions involve joining together two dormer extensions to create an L shape. This type of extension can add anything between 20sqm-50sqm in floor space while also creating plenty of extra room for storage within the eaves.
Mansard Loft Conversions in Kew
Traditionally installed towards the rear of a property, a mansard loft conversion provides optimum space, though typically requires planning permission from the local authority. This type of conversion is popular as a stylish, flat-roof option for a property, particularly in Kew, where its design fits in well with the area's architecture.
Our friendly loft conversion team is on hand to take your call five days a week from 9am-5pm. We offer a free survey and a written quotation for all clients based in Kew. All our staff are fully trained and qualified in line with the highest UK industry standards. Call now on 07828 160103 or drop us a line, outlining which service you require.