premier loft conversion and home extension company
Loft Conversions & Home Extensions in Teddington, Chiswick & across West London
Welcome to SKC Services Ltd, Teddington, Chiswick and West London's premier loft conversion and home extension company.
Thanks to the extensive design and construction skills of our team, SKC Services Ltd has earned a reputation for contemporary design and craftsmanship for home improvement services across Acton, Barnes, Chiswick, Ealing, East Sheen, Epsom, Hampton, Kew, Kingston, Mortlake, New Malden, North Sheen, Richmond, Sheen, Twickenham and Walton on Thames.
Our bespoke builds cover a range of loft conversion and home extension styles, delivering a high-quality, cost-effective, first-class finish for all work undertaken.
Home Improvement Specialists in Teddington, Chiswick and Across West London
Are you in need of extra living, sleeping or office space? If so, then SKC Services Ltd can help. A loft conversion or home extension can transform your home, adding not only much-needed floorspace but also considerable value too.
Our team of fully trained professionals is ready to help you create the property of your dreams – when it comes to space creation, no one works harder than SKC Services Ltd to build better.
Why Choose SKC Services Ltd?
As a locally based business, we are well aware of the needs and house styles of the homeowners in the area.
We employ only the finest craftsmen and use best materials to bring you a loft conversion or home extension deserving of this highly desirable corner of West London.
We deliver open and honest pricing structures and a payment scheme for your convenience.
Find out more about our loft conversion construction options…
Remaining one of the most popular loft conversions for customers across Teddington and West London, a dormer loft conversion uses a vertical roof extension to create additional headroom within the property.
A dormer conversion also makes an excellent choice as it does not necessarily require planning permission.
Internally, a dormer loft conversion features vertical walls and a horizontal ceiling, just like any other room in the house.
While the concept may sound complex, a hip-to-gable conversion essentially means interchanging the sloping part of your roof (the hip) with a vertical wall (the gable).
To provide maximum effectiveness and space, you can create a double hip-to-gable conversion, or even combine it with a dormer conversion at the rear.
A hip-to-gable conversion is best suited to bungalows, detached or semi-detached properties. It is a great fit with 1930s properties, which is good news for homeowners across the West London areas where this style of house is in abundance.
L-Shaped Dormer Conversion
Suitable for most properties – and especially more traditional-build homes – the L-shaped dormer conversion is often the best choice for mid-terraced houses – again a great choice for Teddington and the surrounding West London towns. It uses two dormer extensions which join together to form an L-shape.
Depending on the size of your home, an L-shaped dormer can add anything between 20sqm-50sqm, giving a substantial amount of floor space as well as plenty of storage in the eaves.
Named after 17th-century French architect Francois Mansard, this highly individual looking loft conversion is usually constructed at the rear of the property.
Offering a stylish, flat-roof option, this type of loft conversion fits well in urban areas and has been growing in popularity across the capital. A Mansard conversion offers optimum space but almost always requires planning permission from the local authority and is at the higher end of the loft conversion pricing spectrum.
Extensions, Renovation & Much More
At SKC Services Ltd we can be relied upon to undertake a range of additional construction and renovation tasks, such as:
• Single & Double-Storey Extensions
• Kitchen & Bathroom Installations
• Additional Home & Garden Improvement Works
Whatever project is required, our team is more than up to the job offering consistently high construction values from commencement to completion.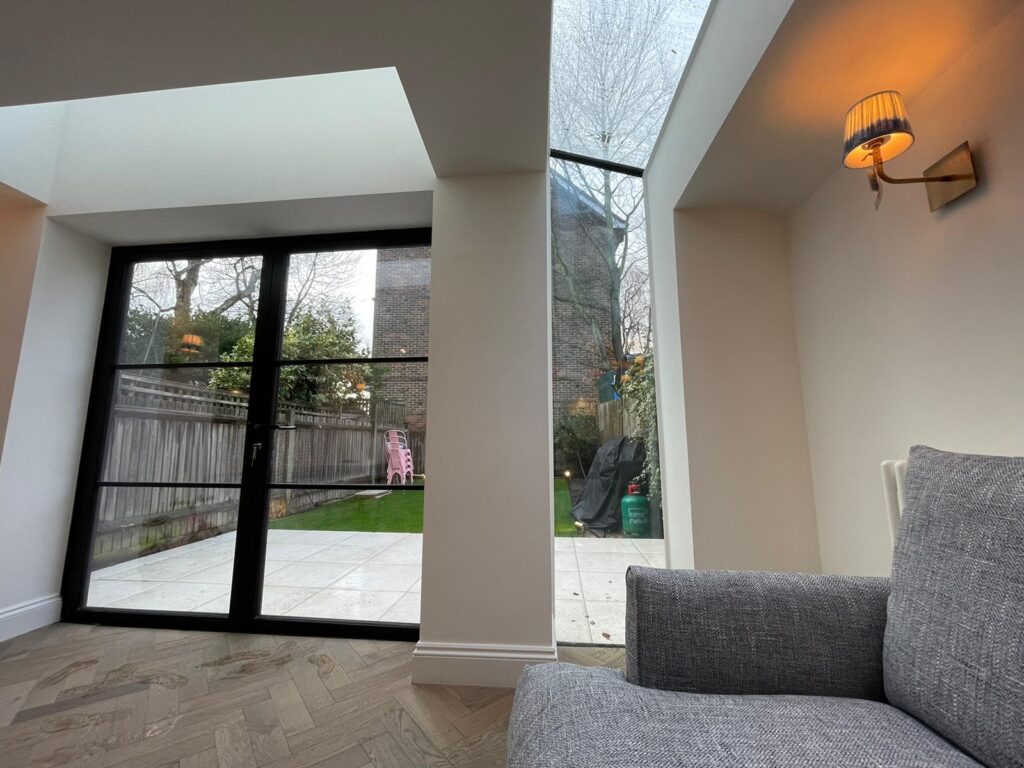 Communication Is Key
Before, during and after the loft conversion or extension, your input and understanding is important to us. We discuss all plans and architectural notes, as well as offering weekly construction updates and same-day conversations should a problem arise.
All estimates are provided in writing and once engaged to do the work, we provide a schedule of works meaning the conversion or extension is completed on time, on budget and to our exacting standards.
Our friendly team is on hand to take your call, five days a week from 9am-5pm. We offer a free survey and a written quotation. All our staff are fully trained and qualified in line with the highest UK industry standards. Call now on 07828 160103 or drop us a line, outlining which service you require.